How to Improve Body Image
It's Valentines Day, a day to celebrate LOVE! Most of us associate this day with the love for an intimate partner, but this can be a day to celebrate any kind of love – for your friends, family, companion animals, nature… and how about loving that image in the mirror?
This blog post is designed to accompany a video, where I share a little bit about my own journey of recovery from heating disorders, and how to improve body image by practicing the first principle of Eating Disorder Intuitive Therapy (EDIT)™ which is Love Your Self. You can view the video on my Facebook Page
That may seem easier said than done! I discovered how I could love certain parts of myself, like my personality, or my hobbies. Regarding my body, I hated the image in the mirror for many years, and avoided looking in the mirror as much as possible.
But I was determined to make peace with that image in the mirror, because a "messenger on my path" kept saying, "I Love You!" to me (that's a story for another blog post). The bottom line is, I decided to listen to this messenger, and try to say "I Love You!" to my own reflection in the mirror.
I started with things I could like about my body, even if it was something like my fingernails. Eventually, I began to appreciate other parts of my body, recognizing things that my body allowed me to do, regardless of shape or size. For example, having strong legs to carry me throughout the day.
Finally, I realized that I was feeling "split" – I was developing a sense of love for the emotional, mental and spiritual aspects of my Self, but still had criticism about my body. How could I love only certain parts of my Self, when all parts made up the whole Self? To love any part, I knew I needed to love the WHOLE of my Self, including my body!
That was a breakthrough for me. My body wasn't "ideal" according to society's standards, but that didn't matter! What a relief to let go of striving to be a "perfect" (yet false self), and to come to a place of seeing my True Self in the mirror, and loving what is!
Click on the image below to download and print the EDIT™ Worksheet
to help you learn how to improve body image and Love Your Self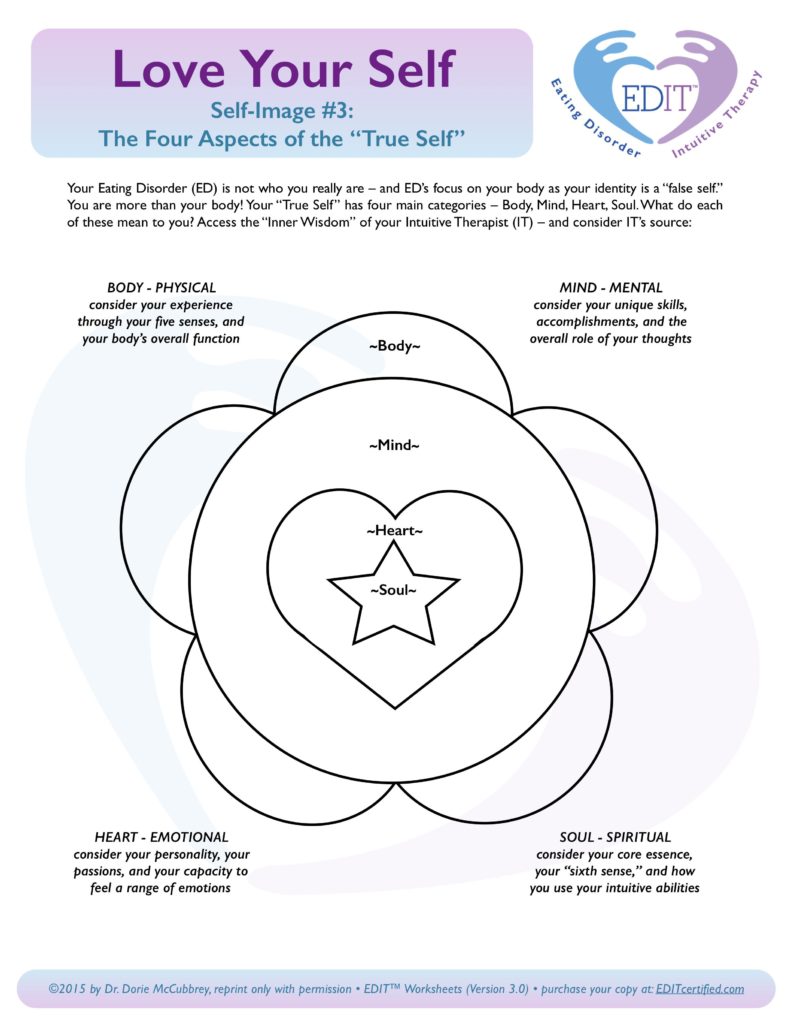 *****
Article may be reprinted with the author bio below.
©2019 by Dr. Dorie McCubbrey. Dr. Dorie is a Certified Eating Disorder Specialist and Licensed Addiction Counselor who is passionate about training professionals to effectively guide clients in recovery from eating disorders, through her Eating Disorder Intuitive Therapy (EDIT)™ Certified program. She also meets with clients at her treatment center, Positive Pathways PLLC, located in Evergreen Colorado. Learn more at: https://www.drdorie.com
*****
Want more that this "taste" of EDIT™? Dr. Dorie is passionate about her method of Eating Disorder Intuitive Therapy (EDIT)™ to help people overcome eating disorders and addictions.  She provides customized counseling for eating disorders and alcohol / drug addiction at her Positive Pathways treatment center in Evergreen, Colorado – and EDIT™ eating disorder training and certification for coaches and clinicians worldwide. CALL 303-494-1975 – EMAIL DR. DORIE – GET CERTIFIED