When I was a young girl, I was intuitively drawn to be outdoors – whether helping my Dad in our garden, climbing trees with my friends, or laying in the grass watching the clouds – I have always preferred to be outside instead of inside. During my recovery from eating disorders, I found myself once again wanting to be in nature. I was awestruck by the many metaphors of recovery, when I would simply pause and notice – the strength of a tree which has weathered many storms, the ease of a river going with the flow, or the transformation of a butterfly emerging from her cocoon.
While in graduate school to become a counselor, I wrote a paper about "Ecopsychology," which was an emerging field, involving the relationship between the environment and the human psyche, or the natural world and our inner world. A newer field has emerged, called "Wilderness Therapy," which involves an integration of nature into the therapeutic process, to facilitate healing in a deeper and more meaningful way.
Now, as a Licensed Addiction Counselor and Certified Eating Disorder Specialist, I'm always looking for ways to bring nature into my work with clients. This may be through the use of wilderness metaphors in my dialogues with clients, by taking mindfulness walks with clients outdoors, or by leading workshops and retreats in wilderness settings. My new office is located right by Evergreen Lake, with access to walking and hiking trails right outside the door!
I'm excited to be offering a 3-hour Wilderness Therapy Workshop on Saturday, June 23, 2018. In this small group of up to 8 members, we'll take an easy walk into a nearby nature area. I'll be guiding participants in a variety of nature-based therapeutic techniques, which are designed to enhance intuitive abilities – what I call the Intuitive Therapist within us all. Whether you are in recovery from an eating disorder or addiction, or if you're simply on a path of personal growth, I invite you to join me for this special event! See flyer for details, and register by midnight on June 16 to get the Early Bird rate!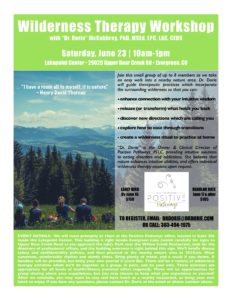 Article may be reprinted with the author bio below.
©2018 by Dr. Dorie McCubbrey. Dr. Dorie is a Certified Eating Disorder Specialist and Licensed Addiction Counselor who is passionate about training professionals to effectively guide clients in recovery from eating disorders, through her Eating Disorder Intuitive Therapy (EDIT)™ Certified program. She also meets with clients at her treatment center, Positive Pathways PLLC, located in Evergreen Colorado. Learn more at: https://www.drdorie.com
*****
Want more that this "taste" of EDIT™? Dr. Dorie is passionate about her method of Eating Disorder Intuitive Therapy (EDIT)™ to help people overcome eating disorders and addictions.  She provides customized counseling for eating disorders and alcohol / drug addiction at her Positive Pathways treatment center in Evergreen, Colorado – and EDIT™ eating disorder training and certification for coaches and clinicians worldwide. CALL 303-494-1975 – EMAIL DR. DORIE – GET CERTIFIED